Course Overview
The Certified Associate in Project Management course usually requires hundreds of hours to be completely successful. This CAPM training course is an excellent resource for professionals studying for the CAPM test. You will learn: – The steps needed to become CAPM certified – The benefits of a CAPM certification within a given field – Important management concepts This course includes over 10 hours of informative content with online quizzes and audio narration. The material is also compatible with mobile Android and Apple devices and it incorporates the use of online project management tools.  This course educates professionals and improves students' ability to manage projects systematically.The course covers the essentials of Project Management in accordance with the standards of PMI.
Whether you are relatively new to Project Management courses or more experienced this course is suitable for you to prepare for formal PMI Certification.Click here for more information on PMI and the Certification process.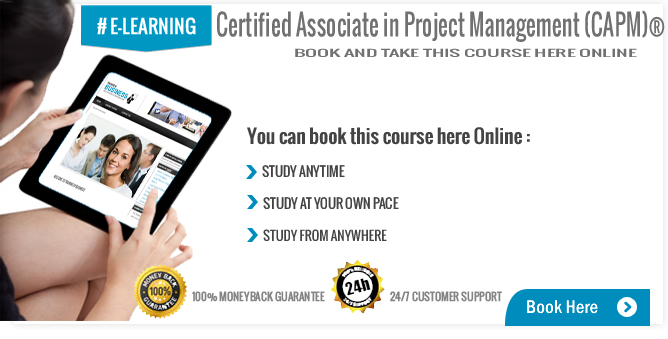 Course Objectives
Who is the course for?
The course is for anyone who wants to develop their Project Management skills or for those who want to gain a recognised qualification in Project Management. It is for anyone who requires a working knowledge of PMI's approach to project management.
What is it about?
This project management training course is for those who want to develop their Project Management skills in line with the accepted industry standard for the profession. CAPM is an entry level qualification.
Utilising the core knowledge of Project Management as set out in framework by PMI (PMBOK) you will learn the essential skills of managing projects. You will be prepared to sit the CAPM online exam run by PMI.
What is covered?
PMBOK – The fundamentals of Project Management
The Body of Knowledge is a document set out by the Project Management Institute which describes the range of knowledge required by project managers
Project Framework
Here participants will gain an understanding of the framework for managing projects.
Project Management Processes
You will learn the essential stages involved in managing a project from commencement to conclusion of the project
Integration Management for PMs
The project manager must integrate the project and keep the project within the parameters of the organisation.
Managing the Scope of the Project
Scope is a key element of project planning and here you will learn the key concepts
Time Management
Completing projects on time and within specific boundaries is a important criteria for the successful project managers. Here you will be exposed to the techniques of time management to conclude projects on schedule
Budget and Cost Management
Completion of projects on time and within budget is the mark of the PM professional. This cost element is covered in a comprehensive but practical manner. Budget setting, management overruns and corrective action are covered in this section
Project Quality Management
Managing the Human Resource
Managing the people element of projects and team working are developed in this section. You will learn how to develop effective project teams and how to determine key roles and appropriate responsibilities.
Communications
Communications are the life blood of projects. Here you will learn the skills and techniques for keeping all stakeholders and team members informed using the many mediums available to Project Managers. Both formal and informal communications are covered.
Risk Analysis and Management
Risk analysis is a requirement for every project. In this section you will be given a toolkit for analysing and managing risk
Managing Procurement
Outlining a system, and template for procurement management
Duration: 10 hrs |  Fee: $ 299